PAINTED GLASS AND LACQUERED GLASS
Luminous colour in your home and business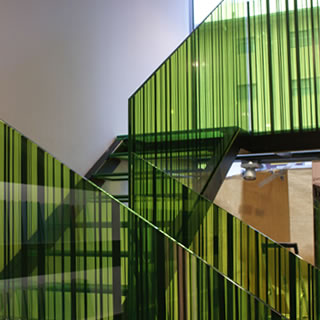 What is stained glass?
Painted glass with vitrified paint is a decorative glass, which is usually tempered/securised, used to obtain coloured glass, with different degrees of semi-transparent or opaque finishes.
There is a wide range of colours in lacquered glass, designed for cladding doors, walls, ceilings and furniture. Lacquered glass is very suitable for decorative applications, obtaining truly spectacular results.
The colours available in principle are those of the Ral colour chart and those of the Pantone colour chart, but any other colour is available on request.
What are the uses of stained glass?
What are the uses of stained glass?
Stained glass is a decorative element of the first order for any type of space. It is recommended to purchase this type of product in a professional centre of reference such as devitroeuropa Granada, because it is a technique of some complexity to apply to functional products.
.
The technique of painting on glass createsincredible creative shapes as a decorative element in itself.
Call now and we will be happy to help you
Do you want to see the projects we have carried out
Do not hesitate to contact us to request information about 'Painted Glass and Lacquered Glass'. A specialist will attend to you and evaluate the needs of your project to offer you an interesting proposal and adjusted to your budget.